Knee pain and arthritis
In our experience Arthritic Knee pain can often be solved by a physio and biomechanist working closely together to improve the way you move which reduces the load on the painful area of your knee.
A complete approach to recovery
Pioneering knee pain treatment by a specialist team
At our clinic, we're leading the way in treating knee conditions and arthritis. Our team includes a leading knee surgeon, experienced podiatrists, and knowledgeable nutritionists, all dedicated to enhancing your recovery and long-term joint health.
Immediate relief
We can offer injection therapy to help you with your immediate pain and create customised insoles to support your feet.
Personal Dietician
A dietician will create a tailored anti-inflammatory diet and provide an expert hand in correctly managing weight.
Leading Surgeon
Expert guidance on your knee pain from a leading surgeon in robotic knee surgery.
Össur knee braces
Option for a knee brace from Össur UK fitted in clinic which has amazing outcomes for people with arthritic knee pain.
Biomechanist
Altius biomechanist uses Optogait to measures movement and can make insoles to reduce load on the knees.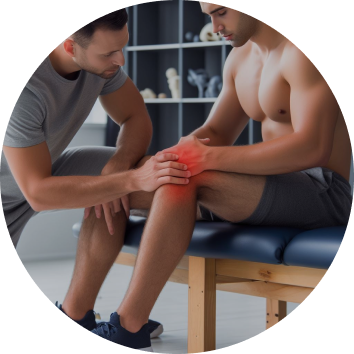 Official partner of Össur
Knee brace fitting
Altius Healthcare has partnered with Össur to fit state-of-the-art knee braces. Benefits include:
Pain Relief: The braces are designed to reduce knee pain associated with conditions like osteoarthritis, ligament injuries, and general knee instability.
Enhanced Support: They provide crucial support to the knee joint during movement, which is essential for recovery and daily activities.
Improved Mobility: Össur braces are known for their lightweight construction, allowing for greater range of motion and comfort.
Injury Prevention: By stabilising the knee joint, the braces help protect against further injury, making them ideal for athletes and active individuals.
A collection of experts offering groundbreaking treatment
Testimonials
We've helped hundreds of patients reduce knee pain
Long term meniscus tear
"After an hour of physio with Doug and the 'Spoon Of Doom' it was then in for treatment with Ben Harper Team GB's Tae Kwon Do physio who drained 60ML of fluid off my kneecap and then steroid injection via ultrasound into the knee for pain relief.
"Huge improvement already following the expert treatment from Ben and Doug absolute legends! "Your health is your wealth and these guys are the best in the UK"
Gerard Franklin via Facebook
Osteoarthritis Management
"I experienced significant relief from my Osteoarthritis symptoms thanks to Altius' comprehensive approach. Their tailored treatment plan, focusing on pain management and mobility enhancement, has been life-changing.
"I'm immensely thankful to the Altius team for their dedicated care. Their expert guidance and supportive atmosphere have not only alleviated my discomfort but also improved my overall quality of life."
Samantha Green
ACL Rehabilitation
"I witnessed a remarkable improvement in my condition thanks to Altius and their personalised appraoch. Their commitment to my recovery was evident in every session, and the progress I made was beyond my expectations.
"I am deeply grateful to Altius for guiding me through this journey. Their exceptional service and the supportive environment they foster have not only helped me heal but also regain confidence."
Michael Thompson
Your journey to pain free movement
Initial clinic visit with the physio team
During your initial visit, our physiotherapy team will perform a thorough assessment to understand your specific needs. We'll measure things like your hip abduction strength and balance scores, among other metrics, to tailor a treatment plan just for you.
Based on the results of this first assessment, you'll be referred to other specialists on our team who can offer additional expertise and treatments tailored to your condition.
Referral to specialised team members
After your initial assessment, you'll meet with other healthcare providers on our team, such as orthopaedic specialists or occupational therapists. They will work alongside the physiotherapists to give you a comprehensive and personalised treatment plan. The goal is to help you manage your knee arthritis symptoms and improve your overall well-being.
Physiotherapy sessions and your interim review
You'll undergo six physiotherapy sessions over a span of three months. These sessions aim to improve your mobility, strengthen your muscles, and help you manage your arthritic pain more effectively.
Once you've completed these sessions and received additional treatments from other clinicians, we'll review your progress. This review will help us understand the effectiveness of your treatments and allow us to adjust your plan as necessary.
Tracking your progress
To monitor how you're doing, we'll use a structured questionnaire. You'll first fill this out during your initial consultation, and then again at three, six, and twelve-month intervals. These questionnaires will help us understand how you're responding to treatment and what changes, if any, need to be made.
Long term care and support
After your twelve-month review, we'll continue to offer long-term support. Depending on your needs, you may have additional sessions or consultations scheduled. This long-term care will help us make any needed adjustments to your treatment plan and give you the ongoing support you need to manage your knee arthritis.
Ready to get started?
Book a consultation or contact us if you have any questions. We offer complete wellness solutions beyond physiotherapy.
"Lorem ipsum dolor sit amet, consectetur adipiscing elit, sed do eiusmod tempor incididunt ut labore et dolore magna aliqua."
"Lorem ipsum dolor sit amet, consectetur adipiscing elit, sed do eiusmod tempor incididunt ut labore et dolore magna aliqua."